1 Day Kigali Motor Bike Tour Rwanda, Kigali City tour covers Kigali's rolling hills with ease on a private moto (motorbike) tour, with a beautiful ride around the cleanest town in Africa (no bottles and plastics) keeping energized for a full day of sightseeing with a complimentary local lunch provided at one of the local restaurants. Absorb unobstructed views of the green capital full of palm trees and beautiful traffic lights.
As you zip between landmarks including the ride to mount Kigali, where you have a whole view of the Kigali city during your 1 Day Kigali Motor Bike Tour Rwanda, ride to Kigali Genocide Memorial, and a walk to Kimironko Market, where you get total illusion of the African business ways, meet the hustling vendors, and experience the bargaining side of African business. If time permits in our 1 Day Kigali Motor Bike Tour Rwanda, we shall visit some beautiful art galleries as well.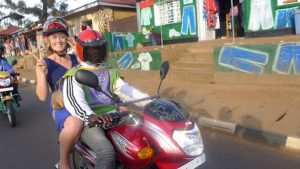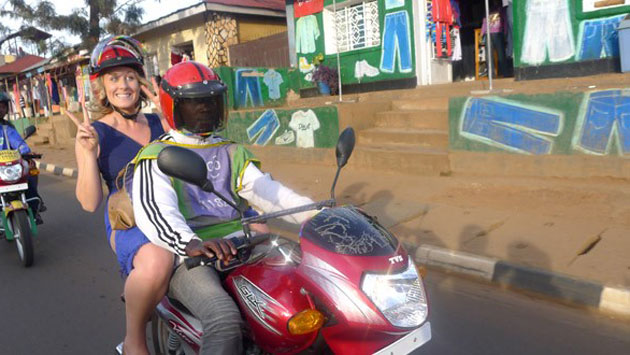 Day Excursion of 1 Day Kigali Motor Bike Tour
Your Kigali Motor Bike City Tour starts at 9am, with a brief introduction at your hotel. Later we leave for a fulfilling great day of exploring boiling various hot spots in the Kigali city. Ride on your "Moto" through Nyamirambo to the summit of Mt. Kigali for breathtaking views of the city and the countryside; pass-by women center, walk around the market, lunch with the local chef and later visit the genocide memorial, finish with a visit to the art gallery, and have a cup of coffee to wind up our day tour before dropping off at your hotel! Your tour ends at 5:00 pm with a drop off at the hotel. Your tour will be with a local Motorcycle known as "Moto", Also include half day Nyamirambo women with lunch.
Inclusions of bike Tour
Local taxes
Transportation on a moto
Lunch
Hotel pickup and drop-off
Use of helmet
Bottled water
Exclusions of Bike Tour